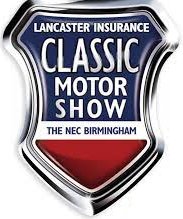 Lancaster Insurance Classic Motor Show
At NEC Birmingham
Nick Tuite
RRR members can use the Code available from the Benefits page of the Members Only section to buy tickets at a discount.
Come and see the RRR display on stand Hall 2-170
Continuing with the RRR 50th +1 Anniversary theme, and the NEC Show theme "The Onward Journey" the RRR will be displaying a model from each of the 4 Generations, illustrating the development and progress of this Iconic Model :-
1st Gen.  1970 2dr Pre-production "Velar"  ex Company Quality Dept Transmission
Durability Test Vehicle
2nd Gen. Early Production 1994 P38A  ex Company vehicle Police Demonstrator,
that was subsequently sold to the Metropolitan Police Dept.
3rd Gen. 2004 L322 Autobiography Specification
4th Gen. 2012 405 Pre production Engineering Evaluation model.
The RRR founded in 1985 has amassed a lot of history, knowledge and experience and our members are willing to share their information with you.